Lamyne M, international artist in residence at the National College of Arts completed his two weeks of residency on 3rd of November, 2022. His stay at NCA was an exchange of expressions between several genres of art. While his focus remained on the research on traditional shoemaking, he also held a workshop for our students at the Department of Textile Design and did a performance on human displacement due to conflicts and climate change.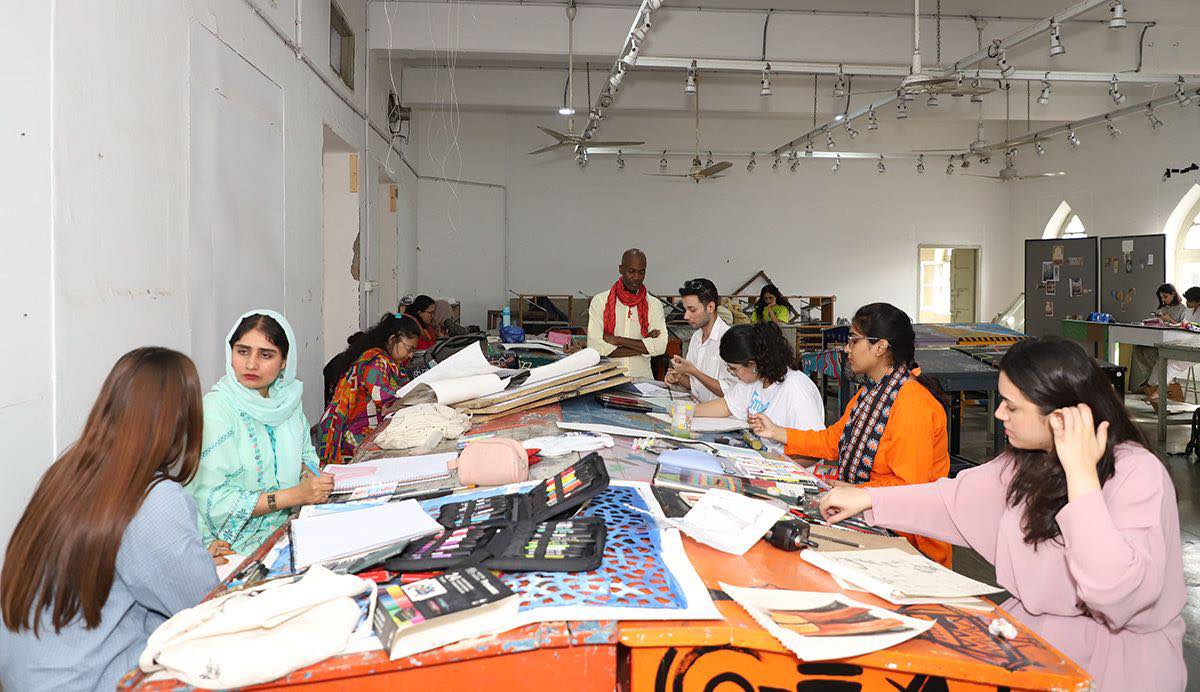 Circles of Love
Patricia Yasmine Graf
Artist-in-Residence

Circles of Love is a multifaceted exhibition where Patricia Yasmine Graf, Artist-in-residence programme at the National College of Arts, worked with up-cycling and design thinking to produce diverse works. Ms. Graf is a freelance multidisciplinary artist and designer from Aachen, Germany. She graduated from the Fine Arts Academy in Maastricht, Netherlands in 2001. In 2005, she founded her own brand PYG®️ bags, furniture and accessories, with a worldwide distribution network. In recent years, Patricia has participated in many international exhibitions and carried out various artistic performances. This year from March till June 2022, she worked as artist-in-residence at the National College of Arts in Lahore, Pakistan.

As a part of the Artist-in-residence programme at the NCA, she has offered different "Design Thinking" and "Up-Cycling" workshops for students of the Product Design and Textile Design Department. In these workshops, the focus was on giving new value to the leftover material from the regional denim production provided by the company Crescent Bahümán.

In her designed works, she sees in herself a responsibility to deal with environmental issues and climate change, in order to find sustainable ways and solutions for these challenges. She also ensures that the products she design are produced in the most ethical ways possible.

During her residency at NCA, Patricia worked with a vision to inspire the product design students to deal intensively with the given material and carry out creative material research to get to know its properties. In the end, the prototype of a new product was to be created from the insights gained. Similarly, each student in the textile design department was provided with a particular size of 12x12 inches in order to join them all together to create a huge individual piece. As a result, a larger-than-life interactive installation called 'Circles of Love' was produced using 100 denim tote bags, sewn out from denim which is currently on display at the Tollinton Block, NCA.

Vice-Chancellor NCA, Prof. Dr. Murtaza Jafri praised the diverse array of works produced by Ms. Graf and also encouraged young students who took part in the valuable project. He said that these projects are indeed very significant to generate awareness regarding environmental issues that we are dealing with, in current times. The exhibition was a happening event and welcomed a number of guests from every walk of life.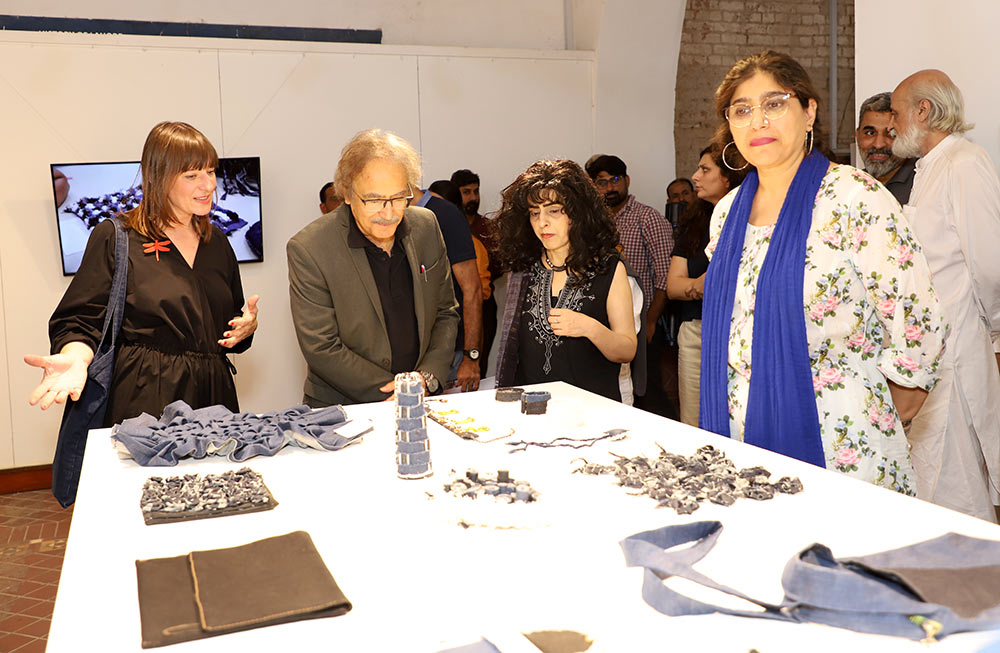 A Preview Show
Adam Robert Hartnell
Artist in Residence

National College of Arts In-Residence programme is designed to support and enhance the artistic and educational environment within the college. During their residency, professional working artists and scholars are provided studio space to carry out their own practice. The residency program has been a conduit for artists to engage in global art discourse.

This year the residency was awarded to Adam Robert Hartnell at the National College of Arts for autumn 2019. He belongs to England and it was his first visit to NCA. During his stay at NCA, Adam worked extensively at the NCA's printmaking and textile studios to produce a comprehensive body of work that went for the preview on December 2nd, 2019 at the Zahoor ul Akhlaq Gallery, NCA.

His work brought together multiple techniques such as woodblock printing and silk screen printing to produce overarching themes of transience associated with the cycle of life. Life and death are mutually correlated and its inevitability has appealed many artists throughout the years. Adam's works also convey these ubiquitous concerns by the use of recurring symbols and motifs.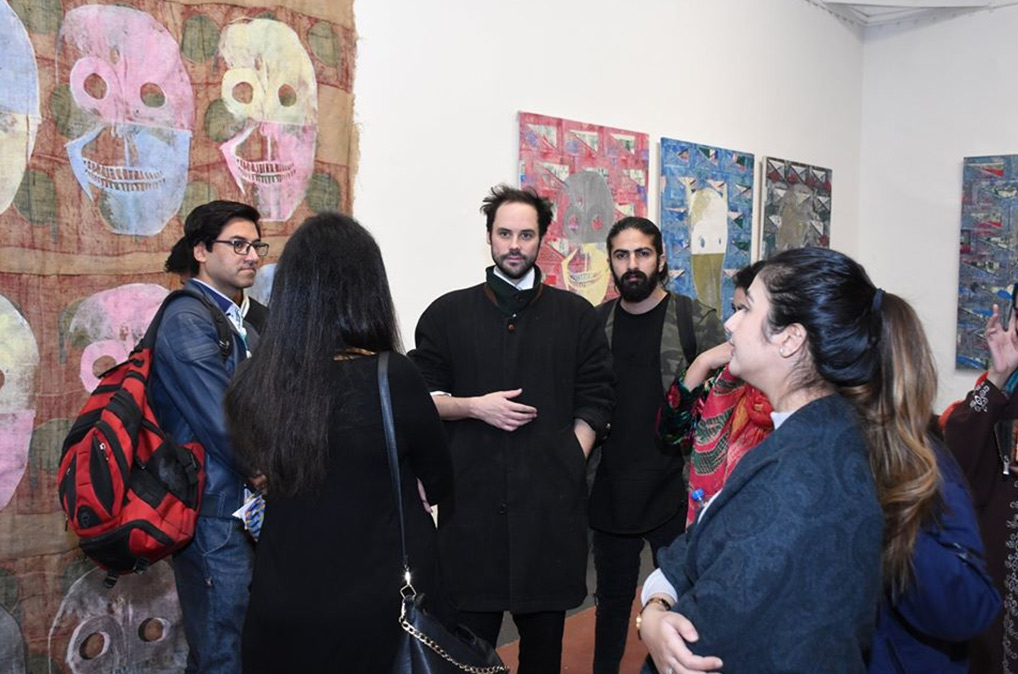 My Granddad's Car
Sayed Sattar Hasan
Artist in Residence

Sayed Sattar Hasan spent two months at the NCA as an artist in residence to further explore his practice and tutor students on the MA (Hons.) Visual Art Program. In the last week of his residency he used the NCA gallery space to display and develop his project My Granddad's Car.

Three years ago Hasan came to Pakistan in an attempt to send his grandfather's car to the UK. Unfortunately, legal obstacles stood in his way. The inefficiency of the courts and Hasan's reliance on others to deal with matters in his absence hampered his plan. Now re-imagined as a sculptural form the car has taken on a new physical identity – that of an artwork. This shift in object classification opens up the possibility of bypassing the bureaucracy of small claims courts and export laws, offering new hope in shipping the car to England.

Regardless of where the car ends up, it's reinvention as a symbolic object enables Hasan to continue exploring the cycle of history –which is provable yet hard to substantiate, real and mythological – while negotiating the present.

Raised in the UK by a British mother and Pakistani father, Hasan's multiple identities have complicated the notion of home and belonging. As an artist he identifies a two fold dilemma which he tries to reconcile through his work. Firstly, the potential of losing one's connection to family and heritage due to the innumerable consequences of migration, and secondly the need to embrace contemporary life which is often at odds with the past and tradition.

Hasan adopts a process driven methodology within his visual arts practice, which reflects his outlook that everyday life is in a continual state of flux. Many people from within and outside the college had an opportunity to see the work throughout the duration of the show, and see how Hasan's thought process manifested itself in his work. The project provoked in- depth discussion around the NCA, which we hope to continue with Hasan in the future.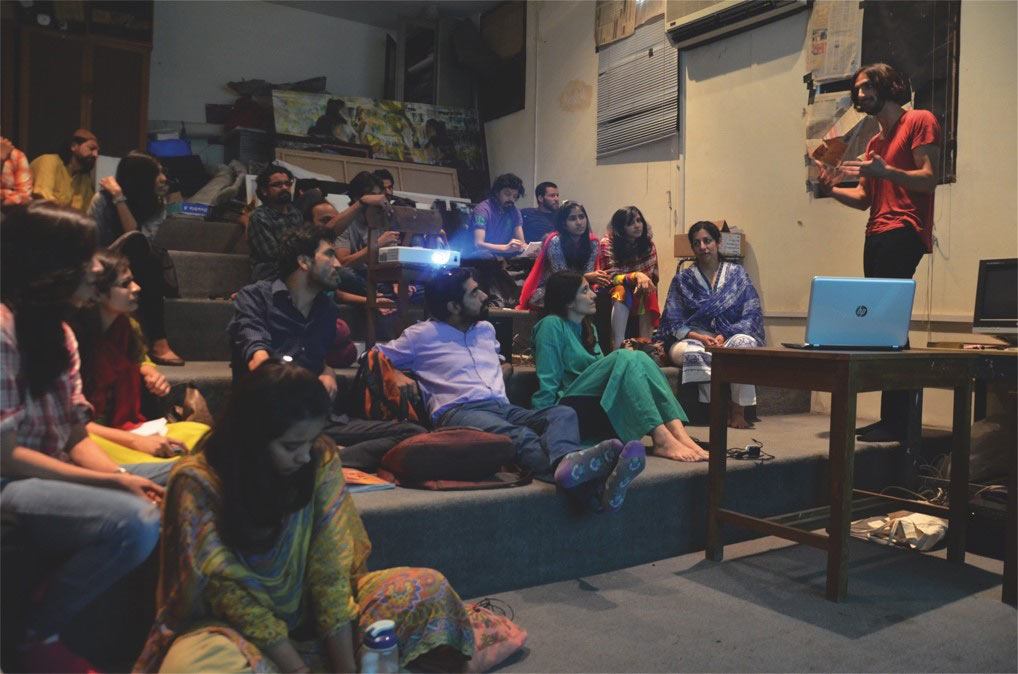 "Other-worldly Narratives"
Hyun Ju Kim
Artist in Residence at NCA

On 7th May, an exhibition of etchings and lithographs of South Korean artist in residence Hyun Ju Kim was inaugurated at The Zahoor ul Akhlaq Gallery. Principal of the NCA, Dr. Murtaza Jafri was the guest of honour and inaugurated the exhibition.

Hyun Ju Kim's exhibition at The Zahoor ul Akhlaq Gallery comprised of printed works in lithography produced at The NCA Cowasjee Printmaking Studio as well as a selection of her other prints that consisted of etchings and aquatints.

NCA is one of the few institutions that offers the facility of practicing the lithography technique. Kim explained that it was the presence of the equipment and the Printing Press that is necessary specifically for the production of lithograph prints that drew her to NCA.

Lithography is a method of printing that involves the use of limestone blocks, chemicals and water. After drawing on the stone with a wax crayon, the image is etched using chemicals and relies on the immiscibility of water and oil for its results. A printing press, specific to the needs of the technique is also necessary.

The prints were varied in size. Most were monochromatic while the most recent, done using the physically strenuous technique of rubbing two limestone blocks against each other, were done at NCA. These were partially rendered in colour.Kim has an Undergraduate Degree from Dankook University, South Korea and received her Masters in Fine Art at Visva-Bharati University, Santiniketan, India.

Since graduating in 2009, Hyun Ju Kim has exhibited in London, Greece, Cairo, Bhopal, Australia and Hong Kong and undertaken residencies in countries including Egypt, Greece, India, Australia, New Zealand and China. Hyun Ju Kim has taught at Lalit Kala Academy, Bhubaneswar, India and taken part in a Serigraphy Workshop at the Government College of Art and Craft, Kolkota.

The images were meticulously executed and immensely detailed. Fantastical beasts, spirits, animals and birds; some set against gently toned, velvety backgrounds animated the walls of the Gallery. Some floated, others conversed and contemplated in the lush vegetation of forests and jungles or danced across moonlit nights amidst the ruins of forts. A celebration of nature and the power of human imagination; these whimsical compositions, laden with anthrpomorphic figures, became vehicles for telling deeply personal narratives that spoke of rebirth and coexistence.

One could identify stylistic references drawn from a plethora of sources such as the tradition of miniature painting of the subcontinent, architectural elements that were drawn from Buddhist architecture and Mughal forts while popular Japanese culture namely anime was referenced as well.

Amorphous spirits could be seen playing hide and seek amongst seemingly quotidian scenes set in twilight or semidarkness.The presence of these spirits in some works, referenced characteristics of Shintoism, a religion which venerates dead ancestors' spirits and involves nature worship. Explaining how her work is meant to engage the viewer Kim said, "I'm just helping them to dream. Imagine through my work... what are you really thinking?" Kim's consummate skill and effort was greatly appreciated by The Head of Fine Arts Department at the NCA, Mr. Quddus Mirza. Hyun Ju Kim conducted the printmaking elective at the NCA during her stay. She also held a special workshop on lithography for the MA (Hons.) Visual Arts students.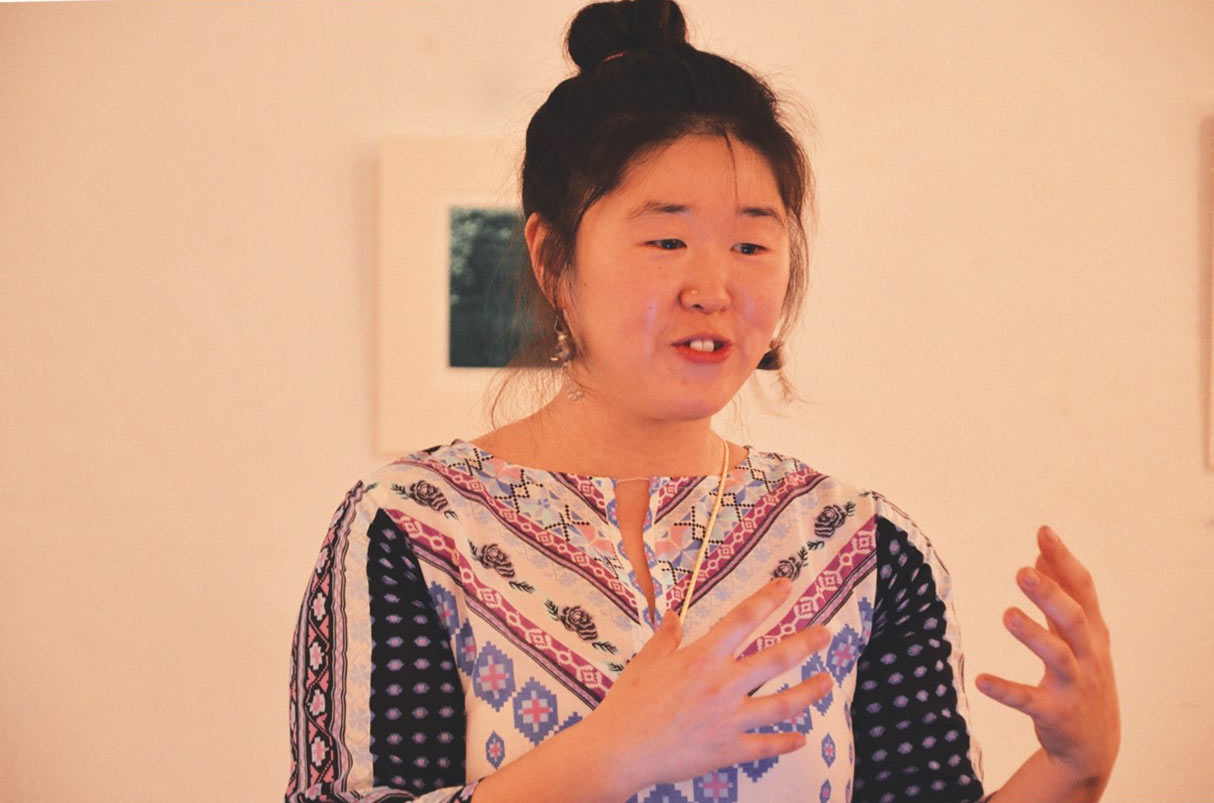 Energy of Holy Colours
Amina Ansari
Artist in Residence

On 16th June 2015, Zahoor ul Akhlaq Gallery showcased the work of artist in residence, Amina Ansari titled "Energy of Holy Colours". Amina Ansari is an upcoming British Asian artist from London. While she has an avid interest in the human figure, her colour pallette and its vibrancy is intrinsically South Asian.

Amina Ansari has had the honour of having her paintings bieng recently shown in the prestigious Houses of Parliament London; her work is also curently part of Her Majesty's Windsor Castle collection.

In her two month stint at NCA, Amina Ansari has retained her interest in the human figure but has sought inspiration from the rainbow and its many hues. Equating a vivid spectrum of colour to people and experiences, Amina Ansari's work was like an emotional personal narrative that celebrated life as an explosion of colour and mark making.

Tactile in quality, as well as gestural, her vigorous brushstrokes were contrasted with an almost naturalistic approach to the expressive portraits in her large scale mural. Her interest in design and pattern was more evident in the work displayed in the center of the Zahoor ul Akhlaq Gallery. Freestanding mannequins posed on a bed of textured golden collage which blazed under the gallery lights; the mannequins were awash in a myriad of colours, decorative marks and symbols that enabled the viewer to interact and move around the work.

The exhibition was attended and appreciated by teachers and students alike.